Christine Rosenberger together with Randi Larway, Heidi Overguard and Alana Hoever joined creative forces in 2009 to offer an exciting new dance program for youth and adults in Sundre. Our instructors specialize in a number of different dance disciplines. Our students range in ages from 3 to adult, and beginning through advanced level of training. We look forward to having dancers that entertain and delight audiences throughout the community. Keep an eye out for us! We are excited to be a part of the community and offer positive, professional dance training to dancers of all ages and experience levels.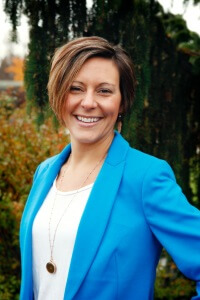 Christine Rosenberger
Christine began dancing at the age of 8 at the Deborah Judt School of Dance in Grande Prairie where she studied Ballet, Jazz, Lyrical, Modern and Musical Theatre. She completed her RAD Ballet exams from Grade 1–8, Pre-Elementary and Elementary as well as all levels in CDTA Jazz. In 2003, while living in Grande Cache, she started her own dance studio, "Centre Stage", teaching ballet, Jazz, Modern, Lyrical and Musical Theatre. Since starting Move Yourself Dance Christine worked with a Calgary studio to been able to enter students into exams from Grade 2 RAD through to Advance Foundations. She is Mom to five busy children, while also being a full-time kindergarten teacher the Chinook's Edge School Division. Christine believes in bringing the passion of dance to her students and encouraging them to grow both as dancers but individuals.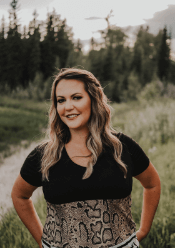 Heidi Overguard
Heidi is a Sundre local who studied Ballet, Jazz, Tap, Lyrical and Acro in Caroline with Dance West and later in Olds at Divine Dance. Taking a break from dance, Heidi studied Photo Journalism at SAIT in Calgary where she refined her love of landscape & portrait photography. Her work has been featured in Alberta Country Magazine, Western Horse Review, Alberta Beef Magazine, Cottage Magazine, local tourism publications and our Move Yourself Dance calendar and marketing materials. For the past 14 years, Heidi has enjoyed sharing her passion for dance with all our students, teaching Dance Dream Discover, Tippity Tappity Toes and all Beginner levels, Teen Intermediate Ballet and now leading our Acro Program as a Certified Acrobatic Arts Instructor. Heidi is a former member of the Alberta Health Services Board representing Rural Alberta, and former Chair of the Alberta Health Services Human Resources Committee and current Vice- Chair of Mountainview County's Municipal Planning Commission. Heidi was a recipient of the esteemed Queen Elizabeth II Platinum Jubilee Medal. She and her husband, Brian also run a cow/calf operation in the James River area near where she grew up. Heidi & Brian have three children, Sam, Scarlett and Scottie Jo. Heidi believes when you love what you do as she does, there really is no greater success!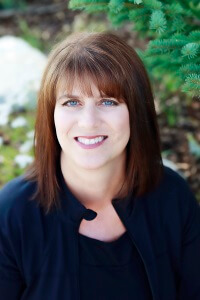 Wendy Read
Wendy started dancing at age 5 with Starlite in Calgary, and continued on with MacDonald Wilson Dance Academy where she completed her exams in Tap, Jazz and Ballet. As she was growing up Wendy juggled a busy schedule that included dance, soccer, gymnastics, volleyball, track and field, badminton and basketball. In her 20's she continued her dance training in Tap, Jazz & Ballet with Kel Soloway in Calgary. After taking a break from dancing while raising her family, Wendy rediscovered dance again when she moved to Sundre in 2006. In her 13th season with MYD Wendy will again be teaching Tap for both children and adults. Wendy enjoys spending time with her husband, two adult children and Nana on their acreage just outside Sundre. She also is enjoying semi retirement touring around with Jaymie in their camper van.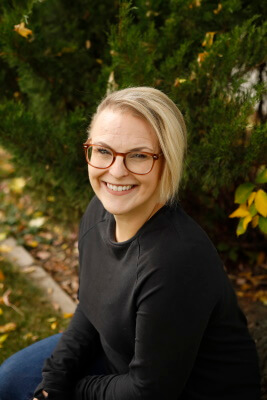 Tammy Chrush
Tammy started dancing at the age of 3 in Trochu, AB and has competed in Jazz, Tap, Ballet, Lyrical, Modern, and Hip Hop over the years. She has completed her ADAPT Teacher Training in Jazz and Tap for Beginner to Advanced Levels and loves sharing her passion for dance with her students. Tammy lives in Olds with her husband, dog and new baby boy McCulley, who was born at the end of May. She teaches Grade 5 at Holy Trinity Catholic School in Olds (when not on mat leave). When she's not in the studio, she enjoys hanging out with her family and crafting with her Cricut!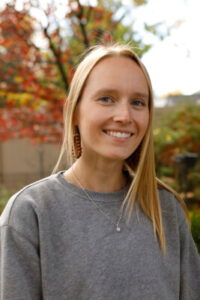 Bailey Sommerfeld
Bailey began dancing at the age of 4 in Sundre, Alberta at Sundre Community Dance. She has been with Move Yourself Dance since our opening in 2009. She has taken Ballet, Jazz, Tap, Contemporary, and Lyrical throughout her years of dance. Miss. Bailey took a break from dance for a year to go SAIT in 2017, in Calgary, to complete her dental assistant program and is now working at a dental clinic in Olds. In her spare time she enjoys spending time at home in Bearberry with her dog and boyfriend, gardening and spending time by any body of water.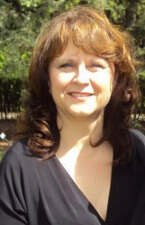 Shara Smith
Shara was the owner and the main instructor of Danceway 21 for 35 years. We are thrilled to have Miss. Shara join MYD in Olds this year. Shara teaches ballet, jazz, modern, contemporary, musical theatre and tap. She has an extensive skill set in all aspects of dance which led her to winning the prestigious 'Choreographer of the Year Award for the 25 years of Dance Festivals Celebration held at Red Deer College Arts Centre in 2012. MYD is so excited to have Shara as part of our team! Shara & her husband also operate a farm together near Trochu. When she's not dancing or farming Shara enjoys spending time with her family; especially her awesome grandchildren!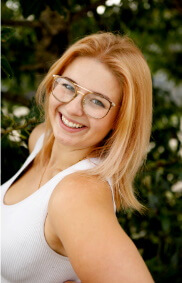 Paige Read
Yes that's right! We are welcoming back Miss. Paige! Paige started dance with Sundre Dance in 2006 at the age of 5. She has been with Move Yourself Dance since its inception in 2009. Along with taking all disciplines of dance, Paige was an assistant in hip hop, tap and jazz over the years. She started off her teaching by taking on a Tippity Tappity Toes class in 2016, but expanded her teaching to include Hip-Hop, Jazz, lyrical and contemporary. Paige has been awarded with three choreography awards for her numbers in festivals. While in high school, Paige also trained at Illfx hiphop company in Calgary and since high school, has found a love for Heels dance. She is currently working as a dog groomer and is beginning to open her own grooming shop in Sundre. After taking the 2021 season off teaching, she couldn't be more thrilled to get back into the studio.
Rylee Rosenberger
Rylee started dancing when she was 3 years-old at Sundre Community Dance. When she turned 6 she moved to Move Yourself Dance where she continued to take Ballet, Jazz, Tap, and even Hip Hop. After taking a small break away from dance for a couple years in her childhood, Rylee returned back to Move Yourself, continuing to take dance classes until she graduated in 2020. During her years in dance, Rylee participated in many disciplines including Ballet, Lyrical, Contemporary, Hip Hop, Tap, and Jazz. She has also completed the RAD Ballet syllabus exams to the Intermediate level. Rylee signed up to be a skilled Assistant Dance Teacher at MYD where she learned skills from some of our seasoned instructors and for the past three years we have been so happy to have Rylee as one of our awesome MYD instructors. Rylee has enjoyed teaching Kinder Acro, Hippity Hoppity and Beginner Ballet classes. Currently, Rylee is attending Red Deer Polytechnic for the Bachelor of Education.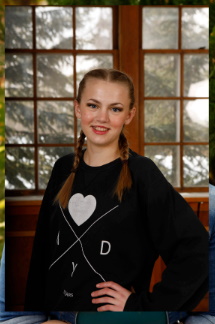 Taryn Sandberg
Taryn has been dancing with Move Yourself Dance since she was 5 years old. Through the years she has taken ballet, hip hop, and tap; however, her favourite style has always been tap. In her spare time, Taryn enjoys listening to music and playing with her two dogs. She has recently graduated high school last year and will be taking a gap year to work and continuing to dance and teach. This will be Taryn's second year as one of Move Yourself Dance's instructors, we are so excited to welcome her back.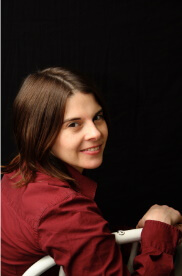 Lisa Calverley
Lisa Calverley began dancing at age 4. She completed R.A.D. Major Ballet exams, attended Banff School of Fine Arts, was a member of Dancestreams Youth Dance Company, an apprentice in the Goh Ballet Company, and completed formal dance education in Montreal at L'Ecole Superieure de Ballets du Quebec, and Les Ateliers de Danse Moderne de Montreal, Inc., where she received her diploma in dance (1994). She has danced and choreographed independently and for other choreographers across Canada in shows and festivals. She toured throughout the U.S. with the dance production Dayuma. She has taught workshops extensively throughout Canada and taught in 10 dance schools in Montreal, Vancouver (and area), Calgary, Olds and Three Hills. She has set 4 long works on the dance company Corps Bara in Calgary. She also directed 2 dance schools (Tria Danceworks and Lisa Calverley Dance). She went back to school and graduated with a Educational Assistant Certificate (Lakeland College, 2020). Last summer she created a long video work on (pre)professional dancers with an Alberta Foundation for the Arts grant she received. She has won just under a dozen choreography awards for festival pieces. As well as teaching dance, she is a mother to 3 children and is an Educational Assistant.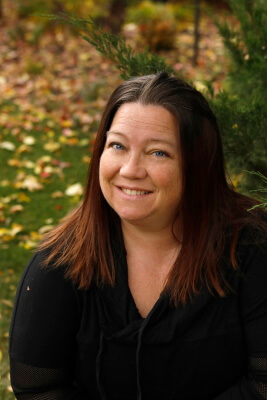 Cynthia Spurrier
Cynthia has an exceptional background of gymnastics training and we are excited to welcome back this Sundre local to our team. Miss. Cynthia moved to the beautiful town of Sundre in 2006. She originally coached gymnastics in Calgary at 'Gymtastics' for several years before moving to Sundre to coach at the Sundre Gymnastics Club. She is now a Level 2 NCCP trained Coach with 20+ years of coaching under her belt. Miss. Cynthia is a Mom is 3 awesome kids and is super excited to be back teaching Acro and dance for the 3rd year with MYD!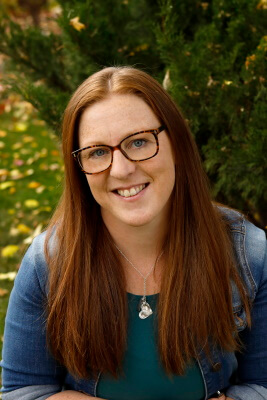 Pamela Kelley
Pamela grew up in Kindersley Saskatchewan where she started dancing at 4 years old. She completed CDTA tap exams through grade school and favoured the discipline of Tap from the very beginning. Dancing competitively through high school and continuing through post secondary with numerous studios in Red Deer and Edmonton tap has always been a passion. Completing a Bachelor of Education and pursuing a teaching career while raising a daughter left little time for tap, so when the opportunity to assist Miss Wendy and work with MYD studios became an option it was a wonderful way to combine her passions of teaching and dance. Currently she teaches Grade 3 at Holy Trinity school and stays busy chasing her children, volunteering in the community, and enjoying her time in the studio with Miss Wendy and the dancers!